Compact multichannel bridge - Netbridge UHD
Netbridge UHD is an advanced interface for simple and fast integration of 4K-UHD streams in to MADI and AoIP (AES67 and Dante®) infrastructures. Its four 3G/HD/SD SDI interfaces, de-embed up to 64 channels of SDI audio, which are simultaneously mapped or freely routed to both MADI and AoIP ports and vice versa; MADI and AoIP re-embedded into the outgoing SDI data streams. Video and audio delays in all four UHD quadrants ensure full audio-video synchronization.
Ideally suited for 4K-UHD video production, the Netbridge UHD closes the gap between digital audio production systems and modern video formats. With its full blown 64 channel interfaces, Netbridge UHD has the capacity to manage any channel configuration from stereo to high-channel count immersive audio.
Equipped with four 3G/HD/SD SDI I/Os, a 64 channel Dante® and AES67 AoIP interface, and a 64 channel MADI I/O port; a total of 192 input and output channels allows for comprehensive conversion and cross-routing of signals between all three formats.
Future proof – AES67 and SMPTE ST2110
In AES67 mode the AoIP interface is fully compatible to SMPTE ST2110-30, making it an ideal solution to integrate legacy equipment in cutting edge audio and video facilities.
Format bridging
Netbridge UHD provides a simple and convenient interconnection between audio and video production environments. Bringing together IP audio and existing video infrastructures. The MADI and AoIP interfaces connects all kinds of production systems to easily contribute their audio signals to one 4K-UHD or four independent 3G/HD/SD SDI data streams.
Create redundancy
All three interface types work independently and can be used to provide redundant parallel inputs and outputs. Alternatively use the Netbridge UHD to create multichannel signal splits for example for backup and parallel recordings or transport via different media.
Combining sources
The four 3G SDI inputs and outputs together handle 4K-UHD video signals, each port carries one of the four quadrants that comprise a 4K video image. Alternatively, the four ports operate independently and thus provide full 16 channel of audio via each of the four 3G/HD/SD-SDI streams.
Combining destinations
Netbridge UHD can be used to create multiple versions of one SDI input stream. Need different language versions or audio playout formats on different SDI outputs? Just split, process and re-embedd your sources into the four SDI outputs. As such Netbridge UHD is the ideal solution for inserting Jünger's comprehensive range of processors, loudness management, upmix and codecs.
Audio-Video-Mixer front end
Netbridge UHD is the ideal front end for a HD video production facility connecting any of the incoming audio channels and redistribute or combine them in almost any configuration. Use it to translate audio signals from four independent SDI sources, mix them in a MADI or AoIP enabled mixing desk or digital audio workstation and re-embed the mix into four independent SDI output streams.
Rapid Routing
For speed and simplicity, routing is provided in stereo pairs or 8-channel groups to connect incoming channels to the required output destinations. Up to 32 channel sets of stereo channels (maximum 64 channels) or 8-channel groups (max 256 channels).
System Security
The dual redundant PSUs, power fail bypass relays and SNMP monitoring the unit ensure maximum operational safety and resilience.
System Integration
The Netbridge UHD is configured and operated via a standard web browser, with all system parameters controlled via the Ember+ protocol enabling simple integration with any broadcast automation or scheduling system.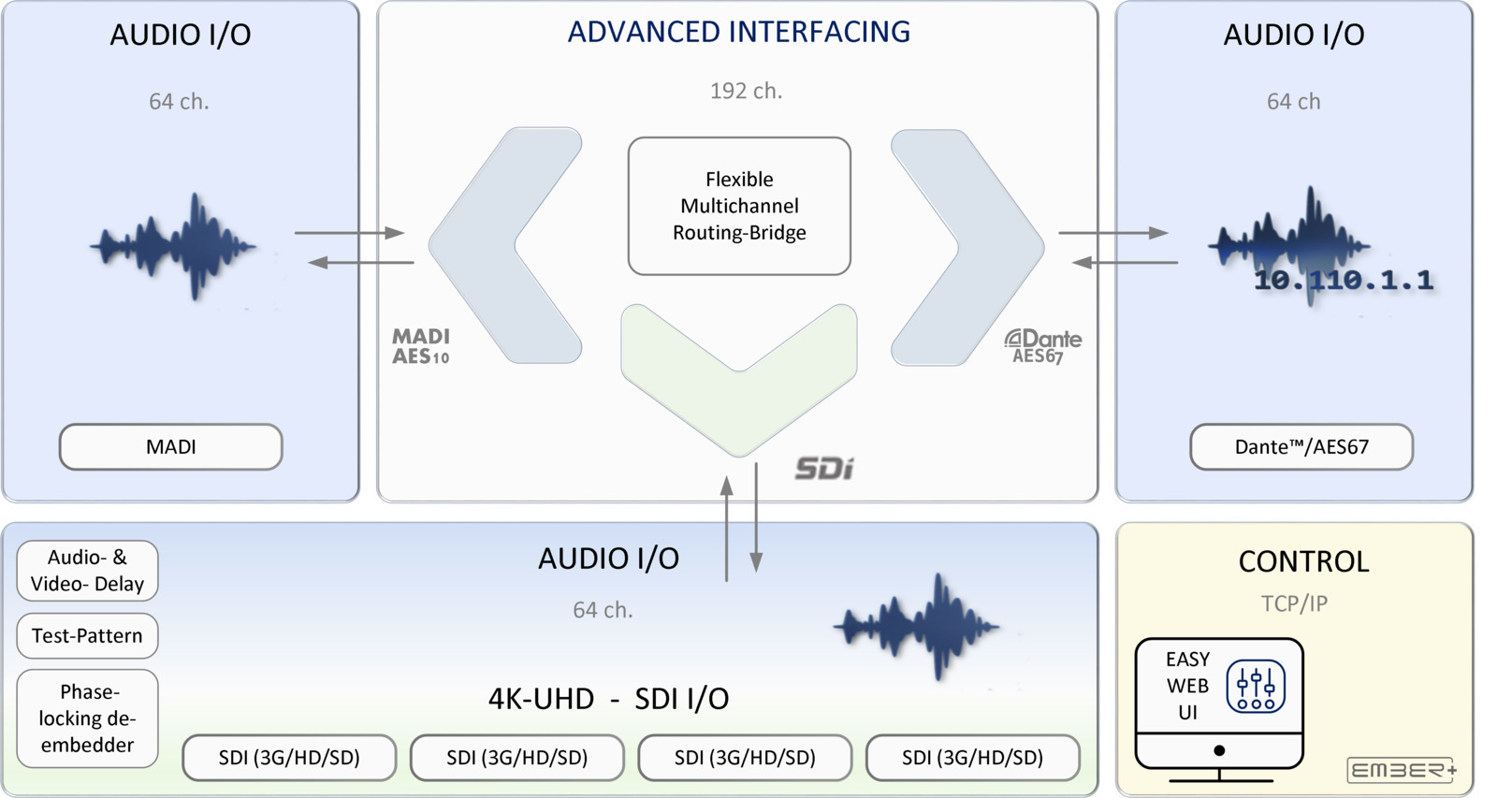 Key Features
4x 3G/HD/SD SDI interfaces: Access to 4x 16 channels of SDI audio; 4K-UHD operation with four 3G quadrants; Phase locking de-embedders; Video test pattern generator; 15 frames video delay
1x Dante®/AES67 I/O: Access to 64 audio channels; Dual RJ45 interface for redundant or switched operation; Redundant network support
1x MADI I/O: Access to 64 audio channels; optical SFP module; Reference grade clock recovery
System / General: Audio bus system for convenient routing of up 256 (TDM eight channel mode) or 64 channels (stereo mode); Ethernet connectivity for setup and control by standard web browser;
Power fail bypass relays
SNMP monitoring
19", 1RU device, Dual redundant PSU's